We are living in exciting times. Some things that seemed immovable until now are beginning to change. Young people are mobilizing against global warming and the Corona pandemic is showing the vulnerability of our globally networked economic systems. The future holds challenges, but above all a lot of opportunities: the global electricity, heat and mobility turnaround as well as the steering of resources into real cycles.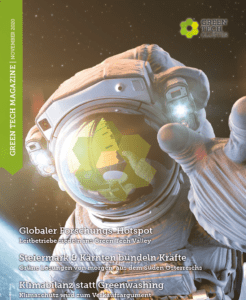 In Styria, more than 200 companies in the Green Tech Cluster are working on new solutions in energy and environmental technology. With 25,000 employees, the companies generate annual sales of over €5 billion exclusively in energy and environmental technology. Within ten years, their green turnover has tripled and employment has doubled. Styrian green tech companies thus grew significantly faster than the global markets.
In this magazine, we invite you on a journey through Green Tech Valley. Join us in visiting innovative research facilities where, among other things, research is being conducted on artificial intelligence and be inspired by innovative implementations in all areas of energy and environmental technology.
Click the green button below to view the Green Tech Magazine from November 2020 in English.